The 2021 Presbyterian Church Schools' Conference will be held at St Andrews College, Christchurch, 5-6 August 2021. The theme is "The Power of the Word"
Contact for conference information: stephanie@presbyterian.org.nz
Presentations from the 2018 Conference can be viewed here.
Registration Reminder
Have you registered for the Presbyterian Church Schools' Conference (5-6 August 2021)? There's only just over a week to go.
This year we have three registration options;
Full registration for the entire two days including all meals for $200.
Attendance at the Thursday evening dinner including pre-dinner drinks for $80.
And a new option which is access to live-streaming of all speakers during the two-day conference for $85. This enables those unable to come to the conference in Christchurch to experience all the speakers or to dip in and taste some of what is happening.
To register for 1. and 2. click this link –  Conference tickets
To register for 3. click this link – Live Stream tickets
Speakers include Dr Ashley Bloomfield, Shaun Robinson (CEO of the Mental Health Foundation), our own Jeanette Duffy and David Jackson, the incoming Moderator of the Presbyterian Church (and former school chaplain) Hamish Galloway, Presbyterian Support, Scripture Union, tertiary chaplain Jordan Redding, and more. Plus great entertainment and dinner on Thursday night.
For further information do not hesitate to contact me;
Stephanie Wells (Rev.)
Director of Presbyterian Church Schools Resource Office
stephanie@presbyterian.org.nz
021 02951129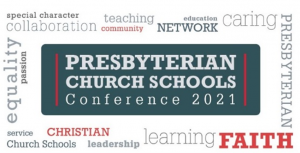 2021 Programme
Thursday 5th August
(mainly based in St Andrew's College Centennial Chapel, Norman's Rd, Christchurch)
8.15am Gathering/Registration (St Andrew's College Strowan House dining room)
9.00       Welcome St Andrews Prep School Kapa Haka (chapel)
9.30       Join Senior College School Chapel led by Rev Paul Morrow (St Andrew's College chaplain)
10.00     Morning tea (dining room)
10.50     Speakers (chapel)
1.00pm Lunch (lunch in dining room)
1.45       AGM      (chapel)
2.15       Speaker
2.45       Breakout Groups: Chaplains. Principals. Board.
3.45       Free time (Option to tour the school)
6.00       Pre-dinner Drinks, entertainment (St Andrew's College Strowan House Staffroom)
6.45       Dinner, entertainment    (St Andrew's College Strowan House Dining Room)
Friday 6th August
(all events in St Andrew's College Centennial Chapel)
8.30       Devotion
8.45       Speakers
10.15     Morning tea (chapel foyer)
10.45     Speakers
12.00     Lunch (dining room)
1.00       Speaker
2.00       Poroporoaki/Farewells
Accommodation Options
(Parking around St Andrews College during school time is challenging so accommodation options are listed with approximate walking times to the venue added.)
Bus: No.1 bus goes up and down Papanui Rd past most of these, as do other buses
Lime or Flamingo e-bikes or e-scooters cost $5-6
Uber or Ola cost $8-11
Wonderful Watford (5 mins walk)                                            Chapter Stay B&B (7 mins walk)
Papanui House (7 mins walk)                                                    Lilac Rose Boutique B&B (10 mins walk)
Quality Hotel Elms (14 mins walk)                                           Uptown City Classic (17 mins walk)
Merivale Manor (18 mins walk)                                                 Heartland Hotel Cotswold (19 mins walk)
Merivale Court Motel (19 mins walk)                                       Milano Motor Lodge (20 mins walk)
Randolph Motel Apartments (21 mins walk)                          Casino Court Motor Lodge (21 mins walk)
Holly Manor B&B (22 mins walk)                                              Strathern Motor Lodge (22 mins walk)
Adelphi (22 mins walk)                                                                Pavilions Hotel (23 mins walk)
De Lago Motel Apartments (23 mins walk)                             Colonial Inn Motel (23 mins walk)
Camelot Motor Lodge (24 mins walk)                                      Southern Comfort Motels (27 mins walk)
Derby St Boutique Guesthouse (28 mins walk)                      The Parque (29 mins walk)