Building a Sustainable Future in a Warming World – slides from  a presentation given by Professor Gary Wilson at the 2018 Presbyterian Church Schools' conference.
Gary Willson is: Vice President – Scientific Committee on Antarctic Research
Chair – NZ Royal Society Committee on Antarctic Sciences
Trustee – Sir Peter Blake Trust
Editor in Chief – Geological Oceanography – Journal of Marine Science and Engineering, MDPI Basel Switzerland
Councillor – Australian Institute for Nuclear Science and Engineering
Physical Science Lead – NZ Antarctic Science Platform
Director – Otago Southern Ocean Marine Institute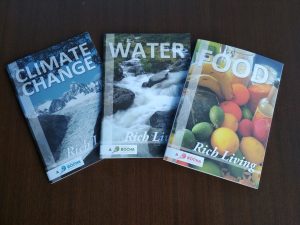 Produced by A Rocha New Zealand, a Christian environmental conservation organisation, explore important environmental issues in a group study format. Current topics available are Climate Change, Water and Food. Studies on Transportation, Stuff and Waste are soon to follow. Booklets are available as PDFs or in printed booklet form. Rich Living Booklets 


God's Plan for Creation  A Year 9/10 curriculum resource written by Dr Jennifer Macleod, Columba College, Dunedin. The link will take you to a Google Drive page where you can download a number of resources. The document 'Genesis 1-3, Unit Plan', gives an overview of the resource with information about key competency and values focus, unit aims, unit content, specific and possible learning outcomes. The resources also include powerpoint files, printable Bible passages and worksheets.