Many of our schools encourage their students to take part in service projects, both local and global.
These resources aim to enhance and enrich the service learning experience for students in keeping with our schools' Christian ethos of service.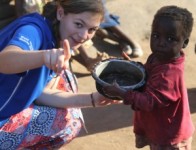 Rev Sharon Ross Ensor presented a paper at the 2016 Chaplaincy conference which explored service learning within our schools and how it can be shaped by our Presbyterian tradition and a Christian theology of service. Shaped by Service
 Resources for service learning experiences:
These resources are produced in Word format to enable you to customise them for your context.
Service learning preparation manual. This manual has resources to help students prepare for a service learning experience as well as on-trip and post-trip processing.
Evening reflection and prayer. A booklet for use during a service trip which offers a brief evening prayer format and suggestions for ways in which students can reflect on their day. An introduction to the booklet and suggestions for its use can be found here.